Worcester Park Back Garden
The brief:
The client felt that the garden was depressing and out of control. They wanted me to create something practical yet unusual and exotic . A sanctuary from the hectic pace of life.
The solution:
The property had an awkward slope and was too small to allow any real sense of mystery. A retaining wall created a level area for a patio, forming a transition from the house to the garden. The remainder of the garden consists of a series of deck 'Lily Pads' that 'float' up the slope. These decks act as viewing platforms, a sundeck and a spa surround. They are interconnected by sleeper bridges that span a small stream. The water is pumped from a base pond up to a waterfall before winding back down the slope. The planting consists of Palms, tree ferns, Yuccas and other lovely form plants that will grow to create a wonderful space to escape to.
The result:
March 2009 - "I can't begin to tell you how much we love our garden! It's good for the soul. Last night we sat out there with snacks and wine. We were warmed by the fire pit and lit the garden with oil lamps. It looked like something out of Africa and the stream is so soothing. This morning we had breakfast out there, and the sound of the stream and the birds is the perfect way to start the day."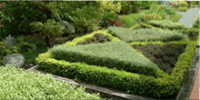 Take a look at some of our latest
work
Remember to give the garden extra water in the hot weather and keep ontop of the weeds !
Tip of the month
Simple and easy advice to keep your garden looking great