Water Garden
The brief:
The house has a stunning location on the edge of a lake. However the existing garden was bare lawn with extensive decking. The client wanted something that would draw people into the garden, offer places to look out over the lake and introduce more of the water element to their outdoor environment.
The solution:
The lawn was removed completely to devote the entire space to this dynamic new landscape. The existing decking was remodeled and the area reduced with the excess timber generated being recycled in the new decks. A stream was designed that started as a naturalised spring/waterfall and after flowing in a sinuous path poured into a pond in front of the house. A series of hardwood decks and boardwalks were constructed over the stream to provide elevated access and viewing platforms. Built-in timber seating on the furthest deck was built as an ideal spot to catch the late afternoon sun and enjoy a glass of wine. The planting is quite Oriental to compliment the existing fisherman statue, and consists of Maples, ferns, palms and other attractive structural planting.
The result:
A very appealing space to be in! The whole of the garden resounds with the sound and flavour of the stream. Each deck offers a fresh perspective, be it of the pond, a bend of the stream or a view over the lake. As the trees and shrubs grow they will further soften and enhance, creating secluded areas and framing the views.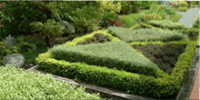 Take a look at some of our latest
work
Remember to give the garden extra water in the hot weather and keep ontop of the weeds !
Tip of the month
Simple and easy advice to keep your garden looking great