Surbiton Garden
The brief:
The client had inherited a rather frumpy old garden, cluttered with an odd assortment of paved surfaces and disjointed flower beds. They wanted to transform the area into a more usable space with simple elegant planting, large practical entertainment areas and a large lawn for the children.
The solution:
The garden was completely gutted before the levels could be finalised and the soil aerated with the aid of a rotary hoe. A new Indian Sandstone patio was constructed with a built in peripheral planter. An ample lawn dominates the central space and is edged with aluminium for ease of maintenance. Wide borders of beds have been created and give a clean contemporary feel. The style of the planting enhances the simple elegant look, with repeating themes of Plumb coloured Japanese Maples interspersed with Trachycarpus palms and Silver Astelia. A mass planting of Pachysandra groundcover throughout the planting gives a cohesive effect to the design, and Crocrosmia bulbs add splashes of colour.
The result:
The garden has become a family friendly space. It has an open sunny feel with a lovely entertainment area and a low maintenance garden that is appealing throughout the year.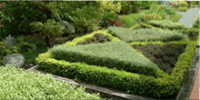 Take a look at some of our latest
work
Remember to give the garden extra water in the hot weather and keep ontop of the weeds !
Tip of the month
Simple and easy advice to keep your garden looking great