Kingston Garden
The brief:
The garden was completely overgrown and impractical. The children's trampoline was unsightly and no amount of tidying seemed to make any difference… Help!
The solution:
As the property was small it had to be carefully designed to accommodate all the different family requirements. The construction of screens projecting from either side allowed the division of the space into a series of 'outdoor rooms'. The first room was a patio allowing flow from the house to the garden. This cosy space is now great for 'al fresco' dining. The second room is the garden proper, with a tidy lawn contained in a classic brick edging. The planting is structured which adds to the architectural flavour, and the beds are easy to maintain. The final set of screens lead to the third room which is a utility area. A shed is cleverly hidden behind one screen, while compost bins and the trampoline are neatly stored behind the other.
The result:
The garden fulfils all its requirements so that all members of the family have their needs met. It makes the garden a pleasure to be in!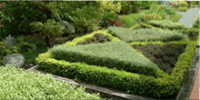 Take a look at some of our latest
work
Remember to give the garden extra water in the hot weather and keep ontop of the weeds !
Tip of the month
Simple and easy advice to keep your garden looking great