Esher home (Rear Garden)
The brief:
The existing garden was very dated and not in keeping with the strong lines of the architecture. Being in a low lying area, water logging was a constant problem. The only seating option was a small mossy patio so more entertainment options were required. The existing configuration was frustrating because the garden was generally quite inaccessible. Many of the plants were conifers and it was felt that it would be good to introduce some more dynamic varieties with greater seasonal interest. The old garden beds occupied a central position with the lawn squeezed around the edges so the request was made to open the garden up with more lawn space for children to play in.
The solution:
The garden was stripped and redesigned along far simpler more flowing lines. (See plan in the front garden gallery.) Large decks were constructed to wrap around the house connecting the house to the lawn and also leading onto an extensive granite terrace. The whole site was re modeled with substantial ground works and massive quantities of topsoil to create a wonderful sense of contouring in the lawns and beds. An extensive drainage system was installed to move ground water in the wet season. Masses of submerged weathered limestone rocks were unearthed and incorporated into an extensive stream system with waterfalls and a lawn 'bridge'. Moisture loving plants such as Ferns, Gunnera were introduced along with many Rhododendrons, Acers and other woodland varieties. The planting relies on massed placement of limited plant varieties repeated over big bed areas.
The result:
The result is a very tranquil space which offers extensive outdoor entertainment options, large lawns for children to play on and beautiful themed planting as a backdrop. The garden has a far more cohesive, practical feel and the lawns compliment the bed shapes very effectivly.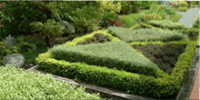 Take a look at some of our latest
work
Remember to give the garden extra water in the hot weather and keep ontop of the weeds !
Tip of the month
Simple and easy advice to keep your garden looking great