Courtyard Garden
The brief:
This garden had lost it's will to live! All the paving and fencing had 'done their dash' and the plants were definitely 'past their sell by date'.
The client really wanted an appealing space to compliment the home. A place to unwind, have barbecue's, entertain friends and connect the house to the garden.
The solution:
A series of raised beds were constructed to frame the entertainment area. This served the dual purpose of providing attractive broad walls to sit on and also elevated the beds for improved drainage and ease of access. As the fencing was shared by three neighbors, it was decided that cladding the fencing in Brushwood matting would create a cohesive attractive backdrop. A central elevated water feature offers a wonderful focal point while creating a natural relaxing sound to drown out traffic noise. A raised hardwood boardwalk connects the house to the patio through a bed of Lavender, Iceberg Roses and scented Star Jasmine.
The result:
This is a little gem of a garden. It offers a cosy intimate space but will handle larger parties if required. The fragrance of the flowers and soft sound of running water combined with subtle lighting in the evening makes it a magical space to be in.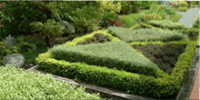 Take a look at some of our latest
work
Remember to give the garden extra water in the hot weather and keep ontop of the weeds !
Tip of the month
Simple and easy advice to keep your garden looking great